Cost Effective
Third-party shredding is affordable compliance
Whether your business is large or small, retaining a NAID member as a third-party shredder to securely destroy confidential materials makes financial sense.
Shredding expenditures are a variable cost based on volume. The less shred you have, the less you pay. 
Minimum charges for a small business can range from $20 to $45, which is less than the monthly costs for copier paper. Medium-sized businesses can expect to spend $45 to $100, an amount less than monthly communication expenses for phone and internet. Large companies will spend more on security systems and personnel than on secure shredding.
Desk-side shredders are inefficient and can result in internal breaches of security.
Employees are most efficient when focused on their primary tasks. Desk-side shredders are not capable of handling paperclips, staples, or bindings and are not consistently used. Capital expenditures and employment costs are minimized by outsourcing shred, and internal security is maximized.
Industrial shredders for in-house shredding are a substantial investment of capital and human resources. 
Industrial shredders can cost up to $25,000. Add in the cost of an employee, maintenance, space requirements, secure containers and the responsibility of federal and state compliance, and the bottom line can easily exceed $60,000 a year.
Shift the burden of non-compliance and liability expense to a professional document management company. 
Fines for non-compliance can be up to $50,000.00. The Back Office stays current on recent legislation and provides document destruction and management in compliance with The Red Flags Rule, FACTA, Gramm-Leech-Bliliey Act, HIPAA, and Sarbanes-Oxely Act. We meet the current stringent guidelines for confidential data destruction and come to each job backed by liability insurance and NAID membership.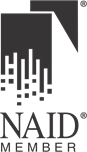 1211 N. Laurent
Victoria, Texas 77901
Phone: 361-579-9058
Fax: 361-575-6683